Snare Drum Buyers Guide
What is the best sounding Snare Drum?
Given that there are many different types of snare drum, it's extremely difficult to say which is the one that sounds the best. And indeed, we'll cover some of the most popularly requested music types in the next section. However, there are some universal things that will make a snare drum sound better than another snare drum.
The first is of course whether or not the snare drum is tuned properly. Now, this is certainly something that can be achieved on any snare drum, but what you'll find is that a lot of the more accomplished snare drums will do a much better job of staying nicely tuned. Better hardware (and better heads) tends to stay in tune for longer and won't distort under heavy playing.
Additionally, better hardware will make it easier to get your snare drum to sound like you want it. So the takeaway here is that you should look to get the best hardware you can for your money. This will give you the flexibility you need for the best sounding snare drum.
In addition, better quality materials will change the sound of the snare drum. Some woods are cheaper and less resonant than others for instance. Some people also think that using a single piece of curved wood is better sounding than laminated wood.
Finally, build quality is very important too. If there are defects or poor design, these can have negative effects on the sound of the snare drum. They can manifest themselves as annoying rattles or rings that shouldn't be there, and it's not always possible to tune them out.
What Snare Drum is best for Metal?
Due to the sharp nature of snare drums, particularly when a rim shot is involved, they are naturally popular components of heavy metal music, which is one of the reasons that we've got a signature metal snare drum in this top ten list.
As a result, a lot of people ask which snare drum they should choose if they play mostly metal. This isn't an easy question to answer, because there are of course many, many different types of metal, which will call for differing snare drum sounds. Traditional heavy metal might want a different sound to nu-metal, and death metal and black metal, while similar to the untrained listener, are completely different too. There's also the fact that how you play arguably has more of an impact than what you play on, so there isn't necessarily a snare drum that's best for all kinds.
Even for different songs and albums, differing sounds might be called for. One of the most famous examples of this is the St. Anger album by thrash metal legends Metallica. Even those who are completely unfamiliar with how drums work and sound will be able to tell immediately that there is something different about one of the drum noises.
Rather than the usual crack of a snare drum, there's this loud, abrasive clanging noise present that was popular among some critics, and very unpopular with lots of fans. It wasn't until well after the release of the album that drummer Lars Ulrich revealed that he got this sound by using a metal snare drum, tightening it up really tight, and then disconnecting the snare wire itself. This gave a sound that is almost like hitting a trashcan and is a major departure from his normal snare drum sound.
Now, it's unlikely that you're going to be as experimental as people like Lars Ulrich, so there are a few things that you can think about which may help you make the right decision when it comes to picking something that you can use for most styles of metal.
The first is that, coincidentally, most metal drummers will use metal snares. So consider looking at steel and brass options, as they are likely to get you the closest to the sharp, loud and resonant crack that is present in this kind of music. Lots of drummers do use wood for its depth and warmth, so don't feel like you're totally restricted, but this is going to be the best choice for you.
The next thing that you can do of course is to make sure you take a look at what snare drum your favorite drummer or bands do actually use. This information is usually pretty easy to find, and will really help to take some of the legwork out of finding out what is best. See if you can try one of these out before you go online and make your purchase.
Finally, metal is more than just a sound – it's an aesthetic too. Instruments aren't just for making music – they have to look good. With this in mind, you might want to go for a snare that has a look that matches the rest of your kit, which is certainly likely to have an alternative edge. The best are always black or otherwise dark and moody.
And of course, if you're really not sure what to choose, then the Joey Jordison signature Pearl snare drum that we included in our list would be a very good option for just about any metal player. We've given a comprehensive look at it above, and think it's a great fit if you really do value the ability to stand out and make those thunderclap rim shots. It's probably the best all-around metal snare drum out there, even if the sounds of Slipknot aren't quite your flavor of metal.
We'd also recommend taking a look at the Ludwig Supralite snare drum, which has some real power and cracks behind it, or the loud and groovy Pork Pie Little Squealer snare drum.
What is the top Snare Drum for Jazz?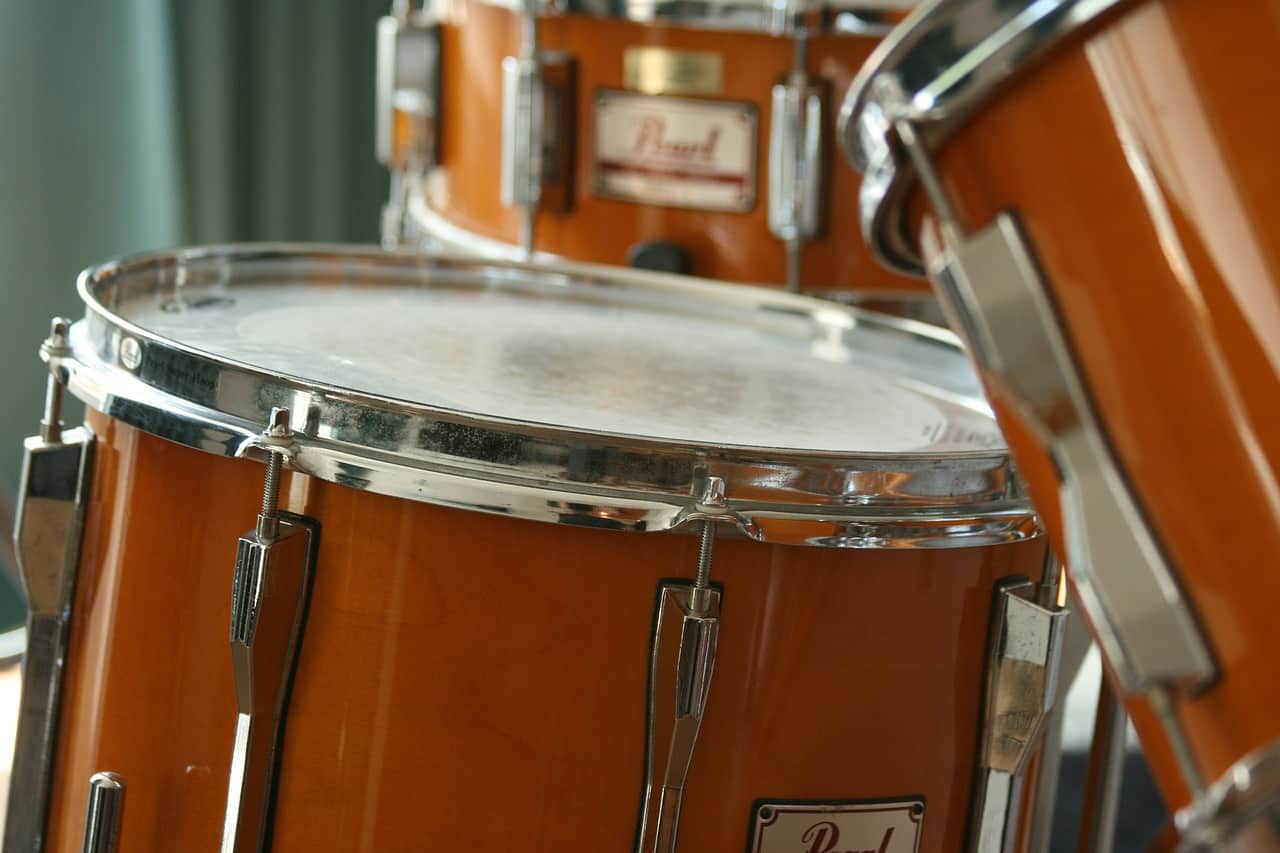 Jazz is one of those genres where people really love to get the genuine, authentic sound right, which is why a lot of drummers ask what snare drum they should be using for it. As with metal, there's no right answer and no best snare, and that's because jazz is and always has been about experimentation and pushing the boundaries. Nobody can tell you-you're playing the wrong type of snare to play jazz.
You'll find that jazz drummers will use all kinds of types of a snare drum for their recording and live performances. Some will use very large and bass-y snares – some will use piccolos, some will use wood, and some will use metal. That said, as a general rule, wood is usually more popular than metal because of the warmer tone it tends to produce. And other different types of wood, maple is preferred, just as with guitar tops.
The head will likely make a very large difference too, but remember that you can easily change this to something more suitable if you don't feel it sounds jazzy enough from stock. Most drummers in this genre would opt for a nice single ply coated head to ensure there are a reasonably high pitch and some sustain to the snare's sound. Critically, it will also allow for some sensitivity and a really responsive feel.
This responsiveness is something you definitely want to look for if you're picking a snare for jazz, because there can be a lot of complexity with jazz beats, and you need your snare to be able to keep up. If it can only really produce one sound and doesn't respond much to the way you hit it, it's not going to be much use in this particular genre.
It's therefore really important to be aware of the fact that when it comes to jazz, it's the tuning of your snare drum that makes the biggest difference, not the instrument itself. Tuning makes a huge difference to how responsive your snare drum is, which means that you can probably use just about any snare drum for jazz if you set it up right.
What you're looking for, again, is your setup to be nice and responsive without too much of a crack when you hit the head, and some warmth going too. That will give you the best sound.
On our list, we'd look at either of the two listed Yamahas if we wanted something with enough versatility and response for a good range of jazz sounds. They're the best at giving you that variety.
How to Tune a Snare Drum?
Snare drums will naturally detune after being played for a while, and when you first buy a snare drum, it will take a little will for the head to be broken in properly. Once it is, it will need tuning. With this in mind, we're going to take a look at how to tune a snare drum properly so that it'll sound as good as it should.
You'll know that your snare needs tuning when the sound is no longer crisp and sounds what many people would describe as 'wet'. Sometimes the sound will be uneven too – the same note should be heard at the same distance from the edge of the snare drum all the way around. So if you hit the head 3" from the edge, it sounds the same as hitting it 3" from the edge on the other side too.
It's very important to note at this point that unlike lots of instruments, there isn't necessarily a snare drum that is 'perfectly tuned' or set up the best. This is because different people playing different types of music will have different sounds that they want to produce. Tightening and loosening certain elements of the snare drum will change its characteristics, though you do want the right not to be sounding on the head, and for it to be consistent which is what we'll help cover.
First, the bottom head, which is also known as the resonant head, because it's the one that resonates and makes the classic snare drum sound after you've hit the top head.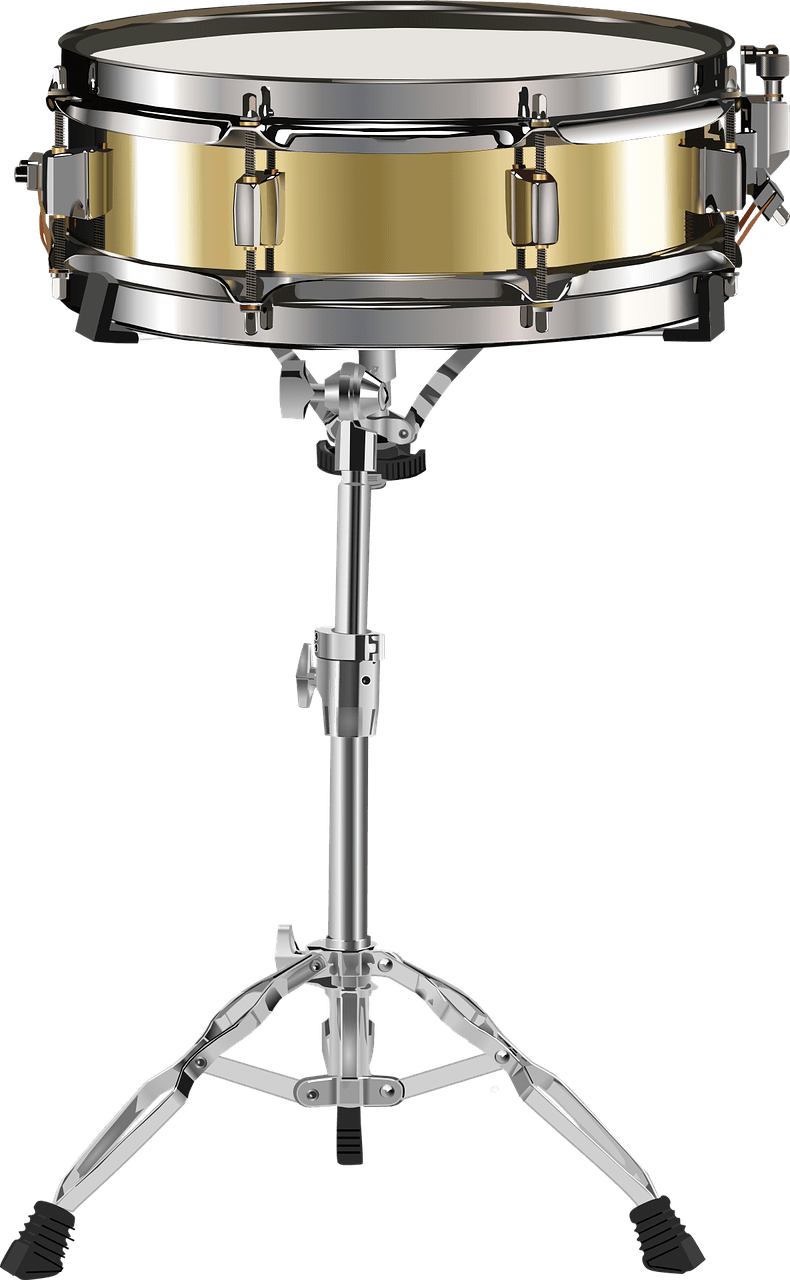 The first thing to do is undo the snare wires, which are the very thin wires that run across the snare drum head and give it the distinctive sound. These are generally clamped into place and can be unlocked fairly easily. If you can't easily figure out how to do this, then most drum manufacturers have instructions for their own mechanisms and the best way to use them on their websites. You may also have an instruction manual.
Next, you're going to want to tighten all of the nuts that go around the head use your hands initially to get them to a reasonably tight state and then get out your drum key (or a normal socket of the correct size). Tighten each one up as much as possible; until the head only has a few millimeters of giving when you push it with a finger or thumb.
Now it's time to make sure that the entirety of the bottom head is nice and equal. Using your drum key, you want to begin with one bolt, and turn it about a half of one turn. Then, move to the bolt on the opposite side of the head and do the same. Keep doing this all the way around the head, always adjusting in opposite pairs, until the whole thing feels equal, turning the drum key only a small amount. This is the best way of keeping it uniform.
You can test this by pressing down the same distance from the edge of the drum all the way around the head and feeling for any inconsistencies. Everything should be tight an equal, with no creases and a very smooth look. Do be aware that over tightening is possible, which can break the head, so make sure you're allowing for a little bit of giving.
Next up is the batter, the top head and the one that you're going to be hitting with your drumstick. It's this one that needs to be making the right note when you hit it. Leave the snare wires unhooked for now.
Start by using your drum key to loosen all of the bolts to the point that the head is no longer actually under any tension, but make sure that the rods are still in place. If you're putting a brand new head on, or the head has never been played before (such as if it's a brand new snare drum) then you might want to give it a gentle push in the center just to help stretch it out a bit. This will reduce the time it takes to go out of tune and is the best way of breaking it in.
As we did with the bottom head, we now want to go round by hand and tighten up all of the bolts on the tension rods, of which there are usually eight. Do this in the same way as we did with the bottom head, in opposing pairs. Once they're relatively tight, get out your drum key and work your way around the bolts again, tightening at around half a turn in opposing pairs.
Once the head feels like it's at the right tightness, you can use your drumstick to hit it at the same distance from the edge all the way around, just like we did with our finger with the bottom head. Make sure you're hitting at exactly the same distance from the edge of the drum, and listen out for any changes. Differences mean that there is uneven tension, and you'll need to adjust in pairs to change this.
You're listening for notes between G and B flat on a standard 6.5" snare drum for the best tone, but this will narrow to A flat to B if you're working with a shallower snare. Those that are very keen on having a perfectly tuned instrument will also want to ensure that the resonant head is at the right pitch too, though this isn't always necessary for most people, especially when playing music with a band.
Once you're happy with everything, you can turn the drum back over and refit the snare wires. These should be perfectly straight against the bottom head for the best sound. Give the whole thing a once over and check how it sounds with the snare wires back on before you get it back on the stand and in your kit.
Top Choice – Yamaha Stage Custom Birch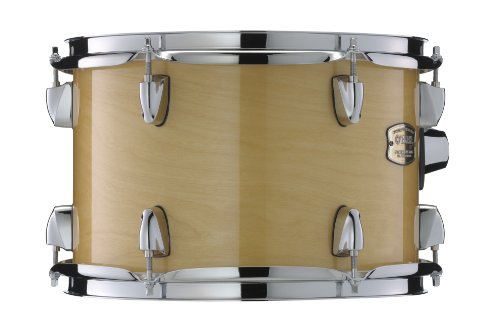 We've decided that the Yamaha Stage Custom in birch is our very best snare drum, and that's because we think that it's accomplished in all areas, and is a very good price too. You could pay a lot more for a different brand or model of snare drum and still not get a better snare for your money.
You'd normally expect a mid- or upper-range product to hit our top choice, but the Stage Custom snare drum is at the lower end of the price range despite its accomplishments. The birch shell helps to give this snare a really nice warm tone, making it best for a lot of styles, and you just know that you can get this thing out of the box and it'll sound great right away.
When you do get it out of the box, you'll notice immediately the real quality of the snare drum you've just bought. The wood is wonderfully finished, whichever color you choose, and all of the hardware sits beautifully against it. You could upgrade any of the components but you really won't need to – this is just a fantastic, all-around best, wood shell snare.
Premium Choice – Gretsch Drums Silver Series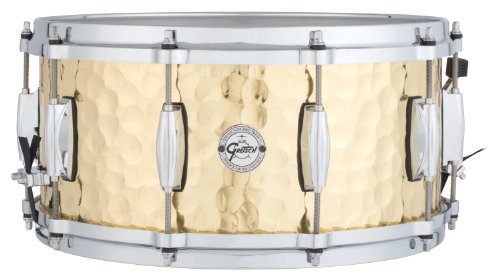 The premium choice just had to be Gretsch's Silver Series Snare Drum in Brass. No other snare drum on our list is quite so obviously a premium product, from the brand to the construction, to the tone and style. We absolutely love the way it looks, with that hammered brass shell contrasting against the chrome hoops and hardware.
The way it manages to straddle the gap between the warmth of a wood snare and the cutting power of a metal drum is very impressive too. We really like the way that you can tune this thing to do almost whatever you want, which certainly justifies the price tag. If you're looking for something bluesy and characterful, you can do that, but similarly, if you play classic rock, you can get the right sound too. It's a very versatile snare drum.
And of course, the premium choice has to be a real quality product, and the Silver Series Gretsch certainly is. From the hoops to the shell, and the drum tuners to the snare latch, everything is made to a very high standard, and is sure to last a very long time. You could certainly see this as an investment rather than going for a cheaper option. It's one of the best.
Great Value – Mendini by Cecilio Student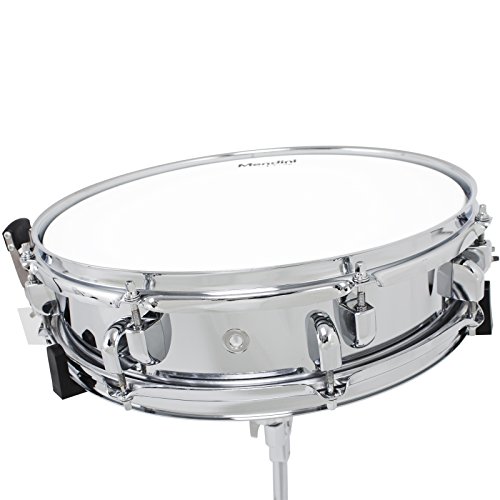 We love seeing a really low budget option that surprises everyone, and the Mendini by Cecilio Student snare drum does just that. It's extremely cheap for what it is, but it's no throwaway instrument. It's pretty well made with no clearly poor quality parts, and we didn't hear any of those annoying rattles that you can sometimes get on cheaper drums.
The sound is good too, with a nice, reasonably bright tone and a surprisingly good crack. You might want to change the head if you want a little bit of an upgrade or to make it a bit more responsive, but otherwise, this is a perfectly serviceable snare drum and definitely shouldn't be overlooked.
It's also great to see that even at this price point you can get some freebies thrown in. The Student snare drum (read the study) comes with a stand and case, which makes it even better if you just want a singular snare drum that you can use to practice on. You can literally buy this, some sticks and you're done. It doesn't look half bad either. It's definitely the best value option.
Conclusion
So whether you want your snare to be loud, crisp and aggressive, our you'd like something more responsive and colorful, we're sure to have covered the best snare drum that's right for your needs. There are some really standout instruments on this list, which are the best in their respective categories, and any of them would make a great purchase. For the study on snare drums in percussion, click here.